Why Shared Leadership?¹
Leaders of high performance teams are increasingly recognising the need to move towards greater share leadership. This means changing from a model where team members each report on their function and give the leader responsibility for putting it all together, to one where joint and collective responsibility is taken by all members. In a shared leadership model, the members of the team take joint responsibility and engage in mutual responsibility for the collective objectives of the team.
This is hard to achieve and many CEOs start by looking at their team. But that's not the place to start.
Start with yourself
It's hard to bring about the change in a senior team where they take on greater shared leadership. Even when you, as a leader, have recognized the need, where do you start? Hawkins suggest that you start with yourself. Before the team can shift, you must start shifting your leadership style.
The optimum style for establishing shared leadership in a team is Team Coach, which I'll describe later. But to get there, leaders pass through other stages of developing a leadership style. I'm calling these stages Plate Spinner, Strategy Narrator, Connector and finally Team Coach. Hold your hand up if you recognize yourself in here.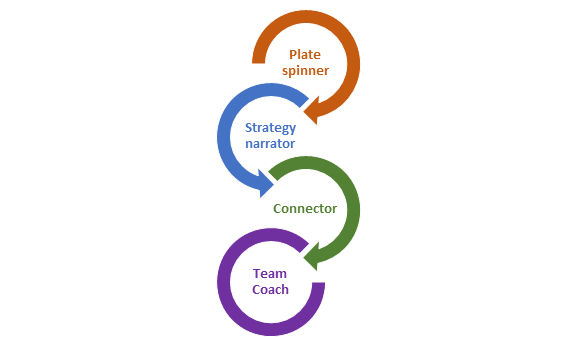 Plate Spinner
Many managers have a team with members who have the same function as themselves. This allows them to deploy expertize-based leadership. When they subsequently move into a leadership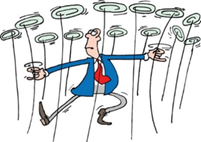 position in larger, multi-functional team it can be overwhelmingly tempting to try to operate the same way, even for functions where they have no expertise.


These super-managers quickly find that they dart from one problem to another, 'solving' as they go. They have a rushed sense of constantly monitoring spinning plates. They are so occupied with 'knowing' and solving problems and tied up in meetings that they haven't time to step back and reflect on broader issues.
Strategy Narrator
Coaching from their board (or from Oyster Development) can help the Plate Spinner to extricate themselves from trying to manage all the parts and to start looking at the organization as a whole. They will consider the collective goals of the organization and of their senior leadership team in particular.
At this stage of leadership style, the CEO will help all members of the team appreciate how their goals contribute to those of the whole organization. They will create and articulate a strategic narrative that integrates the different teams' activities.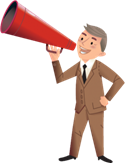 In this stage, the team leaders will understand how their goals support collective goals. But they will still tend to focus on their own vertical objectives and their own function and successes. In meetings, most comments will be directed to the CEO.
The CEO will often find himself as the mediator and will let the team focus inward while the CEO carries responsibility for representing the organization to external stakeholders.
Connector
The CEO who achieves a Connector leadership style will develop a stakeholder relationship strategy with their team, where it is clear who is responsible for leading each key external relationship (and it's no longer the CEO by default).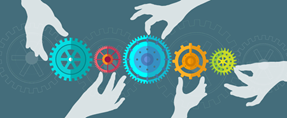 The team will also be given the tools and responsibility to sort out their interpersonal conflicts and inter-functional issues among themselves, without involving the CEO. This will likely require some emotional and behavioral education. In these ways, the CEO enables the team to develop appropriate internal and external relationships in service of the organizations greater goals.
Team Coach
The world constantly throws up new challenges and changing circumstances for a team. The term VUCA has moved from the military lexicon to the language of business to describe increasingly common business conditions of volatility, uncertainty, complexity, and ambiguity.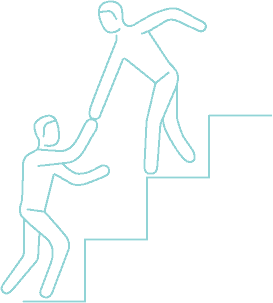 The most difficult leadership style for a CEO to learn is Team Coach where the focus is on constantly building the capacities of the collective team so that the team develops resilience and adaptability to VUCA and the team becomes more self-managing and self-sustaining, able to learn from each other even when the leader is absent.
All the team members are key drivers and supporters of every other team member's learning. The team learns to talk through issues, together generating new ways forward and learning different approaches as appropriate to the changing landscape.
The world doesn't stand still and neither can team leaders. They must be constantly learning and adapting their style.
---
¹Hawkins, Peter, Leadership team coaching: developing collective transformational leadership. (2nd ed.) Kogan Page, London.